The Proxes Sport creates a greater connection to the road with improved contact, improved grip, and improved handling. This max performance summer tire combines proprietary Nano Balance Technology with a unique tread design to deliver these enhancements in wet and dry conditions. Serving as the flagship for the company's legendary Proxes line of high performance tires, Proxes Sport is available in over 80 sizes covering a broad range of modern sports cars and luxury sedans.
Features and benefits
New High-Grip Silica Tread Compound
Delivers excellent handling and improved grip in wet and dry conditions.
Improves flexibility for greater adhesion to the road surface.
Dynamic Taper Design
Grips the road for improved contact and handling.
Enhances wet and dry braking.
Improved Rib Design
Creates more even contact pressure for improved braking and handling.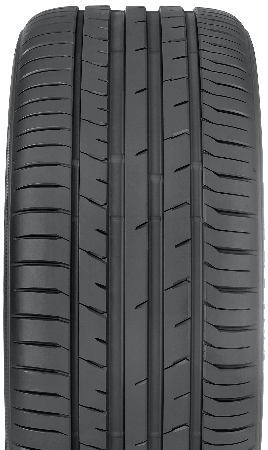 Tread pattern by width
Tread patterns for Proxes Sport vary by width. Section widths of 285 and above have an additional center rib.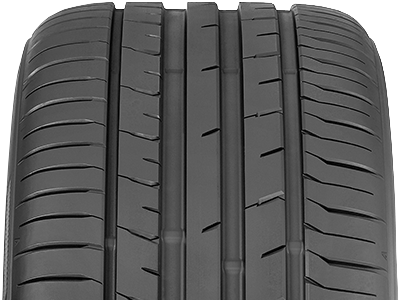 Width: 275 & Below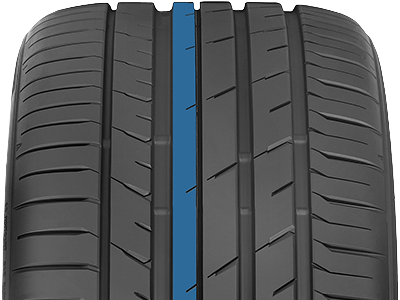 Width: 285 & Above
Sizes & Specifications
Tire Size
Load / Speed
Load ID
Sidewall
Tread Depth

(1/32″)

Product Code
Approved Rim Width Range

(in.)
| | | | | | | |
| --- | --- | --- | --- | --- | --- | --- |
| 205/45ZR17 | 88Y | XL | BSW | 9.2 | 136110 | 6.5-7.0-7.5 |
| 215/45ZR17 | 91W | XL | BSW | 9.7 | 136120 | 7.0-8.0 |
| 225/45ZR17 | 94Y | XL | BSW | 9.3 | 136130 | 7.0-7.5-8.5 |
| 225/50ZR17 | 98Y | XL | BSW | 9.4 | 136140 | 6.0-7.0-8.0 |
| 235/40ZR17 | 94Y | XL | BSW | 9.4 | 132720 | 8.0-8.5-9.5 |
| 235/45ZR17 | 97Y | XL | BSW | 9.6 | 136060 | 7.5-8.0-9.0 |
| 245/40ZR17 | 95Y | XL | BSW | 9.6 | 136090 | 8.0-8.5-9.5 |
| 245/45ZR17 | 99Y | XL | BSW | 9.7 | 136180 | 7.5-8.0-9.0 |
| | | | | | | |
| --- | --- | --- | --- | --- | --- | --- |
| 205/35ZR18 | 81Y | XL | BSW | 8.9 | 133310 | 7.5 |
| 215/40ZR18 | 89Y | XL | BSW | 9.2 | 136860 | 7.0-7.5-8.5 |
| 225/40ZR18 | 92Y | XL | BSW | 9.3 | 136730 | 7.5-8.0-9.0 |
| 225/45ZR18 | (95Y) | XL | BSW | 9.2 | 136820 | 7.0-7.5-8.5 |
| 235/30ZR18 | 85Y | XL | BSW | 9.2 | 133320 | 8.5 |
| 235/40ZR18 | (95Y) | XL | BSW | 9.2 | 136040 | 8.0-8.5-9.5 |
| 235/45ZR18 | (98Y) | XL | BSW | 9.3 | 136780 | 7.5-8.0-9.0 |
| 235/50ZR18 | 101Y | XL | BSW | 9.2 | 136680 | 6.5-7.5-8.5 |
| 245/35ZR18 | 92Y | XL | BSW | 9.4 | 136920 | 8.0-8.5-9.5 |
| 245/40ZR18 | (97Y) | XL | BSW | 9.3 | 136710 | 8.0-8.5-9.5 |
| 245/45ZR18 | (100Y) | XL | BSW | 9.4 | 136190 | 7.5-8.0-9.0 |
| 255/35ZR18 | 94Y | XL | BSW | 9.6 | 136170 | 8.5-9.0-10.0 |
| 255/40ZR18 | (99Y) | XL | BSW | 9.4 | 132860 | 8.5-9.0-10 |
| 255/45ZR18 | (103Y) | XL | BSW | 9.1 | 133100 | 8.0-8.5-9.5 |
| 265/35ZR18 | (97Y) | XL | BSW | 9.4 | 136910 | 9.0-9.5-10.5 |
| 265/40ZR18 | (101Y) | XL | BSW | 9.6 | 132870 | 9.0-9.5-10.5 |
| 275/35ZR18 | (99Y) | XL | BSW | 9.6 | 133140 | 9.0-9.5-11.0 |
| 275/40ZR18 | (99Y) | SL | BSW | 9.7 | 133180 | 9.0-9.5-11.0 |
| 285/35ZR18 | (101Y) | XL | BSW | 9.6 | 133130 | 9.5-10.0-11.0 |
| | | | | | | |
| --- | --- | --- | --- | --- | --- | --- |
| 225/35ZR19 | (88Y) | XL | BSW | 8.9 | 136840 | 7.5-8.0-9.0 |
| 225/40ZR19 | 93Y | XL | BSW | 9.3 | 136890 | 7.5-8.0-9.0 |
| 225/45ZR19 | (96Y) | XL | BSW | 9.2 | 136930 | 7.0-7.5-8.5 |
| 235/35ZR19 | (91Y) | XL | BSW | 9.1 | 136750 | 8.0-8.5-9.5 |
| 235/40ZR19 | 96Y | XL | BSW | 9.4 | 136880 | 8.0-8.5-9.5 |
| 245/35ZR19 | (93Y) | XL | BSW | 9.2 | 136740 | 8.0-8.5-9.5 |
| 245/40ZR19 | (98Y) | XL | BSW | 9.3 | 136830 | 8.0-8.5-9.5 |
| 245/45ZR19 | 102Y | XL | BSW | 9.7 | 136950 | 7.5-8.0-9.0 |
| 255/30ZR19 | (91Y) | XL | BSW | 9.2 | 136790 | 8.5-9.0-9.5 |
| 255/35ZR19 | (96Y) | XL | BSW | 9.3 | 136760 | 8.5-9.0-10.0 |
| 255/40ZR19 | 100Y | XL | BSW | 9.7 | 136770 | 8.5-9.0-10.0 |
| 265/30ZR19 | (93Y) | XL | BSW | 9.3 | 132730 | 9.0-9.5-10.0 |
| 265/35ZR19 | (98Y) | XL | BSW | 9.4 | 136800 | 9.0-9.5-10.5 |
| 265/40ZR19 | (102Y) | XL | BSW | 9.6 | 132880 | 9.0-9.5-10.5 |
| 275/30ZR19 | (96Y) | XL | BSW | 9.4 | 133240 | 9.0-9.5-10.0 |
| 275/35ZR19 | (100Y) | XL | BSW | 9.6 | 136940 | 9.0-9.5-11.0 |
| 275/40ZR19 | (105Y) | XL | BSW | 9.7 | 133110 | 9.0-9.5-11.0 |
| 285/30ZR19 | (98Y) | XL | BSW | 9.4 | 132960 | 9.5-10.0-10.5 |
| 285/35ZR19 | (99Y) | SL | BSW | 9.6 | 133160 | 9.5-10.0-11.0 |
| 295/30ZR19 | (100Y) | XL | BSW | 9.4 | 132970 | 10.0-10.5-11.0 |
| 295/35ZR19 | (104Y) | XL | BSW | 9.6 | 133080 | 10.0-10.5-11.5 |
| 325/30ZR19 | (105Y) | XL | BSW | 8.9 | 132890 | 11.0-11.5-12.0 |